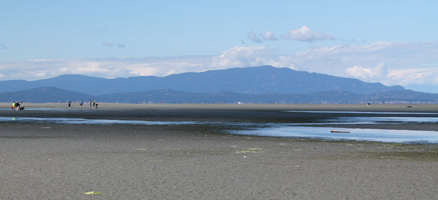 If it all works out, book 5 in the 9 Lives series is going to see the Armstrong-Jamiesons (as well as a number of others) going camping. So today was, for me, the equivalent of getting settled in at the camp site. Figuring out where everything is, sorting out what you've brought and finding out everything you forgot to bring and have to buy.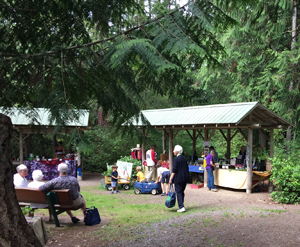 The day started cloudy, so we used the morning to get organized and shop. We started out at a farmer's market in Errington, a hamlet inland from Parksville. It had been set up in a field near the community centre and sprawled into a wooded area that was cool and dark. A musician played on a small stage and a steady stream of people wandered amongst the tables under the trees, poking and chatting. The stalls were more craft tables than produce, as it wasn't yet harvest. Jams and jellies, hand crafted linens, wood carving, and much more. I picked up a few early peppers, but realized we would have to find a grocery store for most of our items. A fun experience and an easy-going reintroduction to Vancouver Island.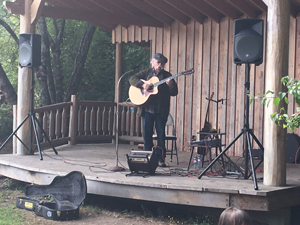 From Errington we headed south to Nanaimo, because there are lots of strip malls there and all of the big box stores are represented. The stuff we had to pick up was things like beach shoes, beach towels, shoes for cave exploration—have to admit those weren't forgotten, because until I got here I didn't know I was going caving. Apparently I am. All are things better suited to a city shopping mall than a country market.
We stopped for lunch at an upscale brew pub. I chose calamari coated in the pub's special blueberry and salt coating. WONDERFUL. I also had a potato and bacon soup that was delicious. We ate on the pub's terrace. Shaded by a cedar fence and with a latticework covering overhead and decorated with plants, it was a quiet oasis on what was turning into a beautiful afternoon.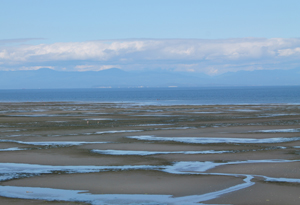 When we returned to Parksville, we went for a walk on Rathtrevor Beach. Located in Craig Bay, this is one of my four favourite beaches and it is enormous (more on the beach in my next post). On this afternoon the tide was still going out, and though we wandered down the hard packed sand, the beach is so big that we didn't even get down to the ocean, and we certainly didn't make our way all the way over to Rathtrevor Park. From the beach you can see the mountains of the Sunshine Coast, while Texada Island and the smaller Lasqueti Island loom to the north. Depending on the light, the mountains are clear and massive or misty blue shadows. This late in the afternoon, the clouds had cleared and the sky was deep blue. Lasqueti seemed to rise up out of the beach and it didn't seem possible that there was a deep-water channel separating it from Craig Bay.

Though we'd gone down to swim, the distance to the water defeated us. In the end we went back to the resort and had a relaxing swim in the pool instead!