Our last day in Alaska began in Wittier, a tiny little town sandwiched between the mountains and Prince William Sound. Wittier is so small that most of its population lives in one huge apartment building. Think about that. The whole town lives in one building. Not just one street, but one building. The school is attached to the apartment building by a tunnel, just to keep things nice and compact. The whole set up would take some getting used to for me.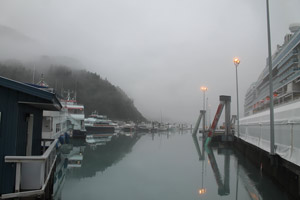 We disembarked shortly after breakfast. The morning was cold and there was rain, low clouds and fog beyond the disembarkation building. We immediately boarded a bus for our Portage Glacier excursion. Our driver did a little tour of the town (pointing out the apartment building mentioned above) but from what I could see through the mist Wittier is a transit point only. There are docks for the cruise ships but few tourist amenities.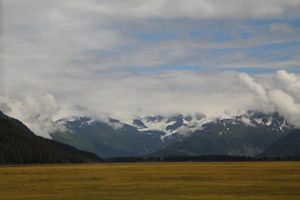 From Wittier to Anchorage takes about an hour and a half by bus or car. After spending a couple of hours at the Portage Glacier, we headed off to Anchorage. For part of the way the road follows the Turnagain Arm, an extension of Cook Inlet, through pretty country. The water is bounded by mountains, snow covered and glaciated, of course, on either side. Along the way there were many scenic viewpoints, though we didn't have the time to stop.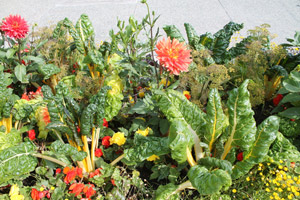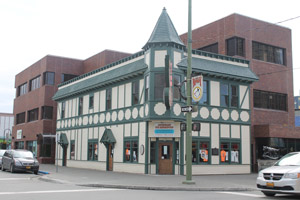 In Wittier the weather was cold and dark. At Portage, on the other side of the mountains, it was clear and sunny. Anchorage was both sunny and hot. We were flying out that evening, so we had our luggage sent from the ship to the airport for pick up before our flight and spent the afternoon in Anchorage. We were dressed for the cool of Prince William Sound. At Portage we were comfortable, if not a little warm. In Anchorage we were peeling off layers down to tee shirts. I wished I had my sandals on, rather than socks and running shoes.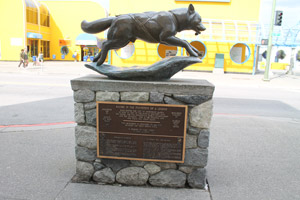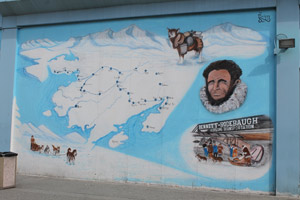 We stopped to have lunch at a bar with surprisingly good food, then wandered through the downtown area, pausing at the spot where the Iditarod dogsled race begins and viewing the oldest house in town. We also did a little shopping and watched a movie on the Northern Lights at the Anchorage Museum before we caught a shuttle bus to the airport. Our Alaska adventure was over. We were headed home.