We sailed out of Glacier Bay in the late afternoon.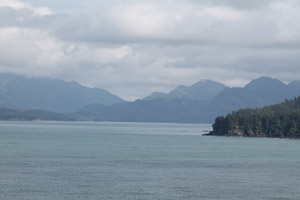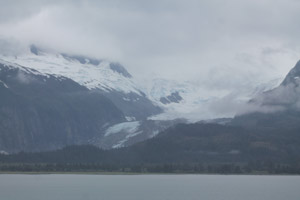 Our next stop was College Fjord, but it is far to the north, beyond the Inside Passage. It took us that night and most of the next day to reach it and by the time we did the weather had socked in tighter than in Glacier Bay. The route took us through the Gulf of Alaska to Prince William Sound, then on to College Fjord, which is at the Sound's northeastern end.
We booked a place in the Sanctuary at the back of the ship again that day. This time, remembering the cold wet of Glacier Bay, we picked one of the small cabanas. It came with a couple of bottles of wine, and lots of water, but the weather in College Fjord wasn't as raw as in Glacier Bay and the shelter wasn't strictly necessary.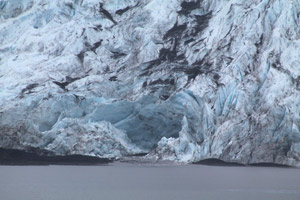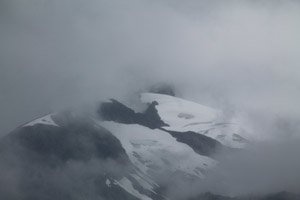 In Glacier Bay the temperature had been a cold 8 degrees Celsius or 46 degrees Fahrenheit according to the Captain's Log. With the rain and wind, I'll bet the wind chill factor brought it down even lower. I dressed in layers, wearing a tee-shirt, medium weight sweater and heavy sweater under a Spring and Fall raincoat for Glacier Bay. I'd ended up wet and chilled but not shivering cold so as we steamed into College Fjord, I wore the same layers. This time the weather was somewhat warmer (14 Celsius / 57 Fahrenheit, again according to the Captain's Log) and it wasn't raining, so I was quite comfortable.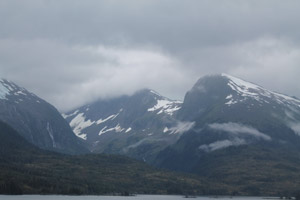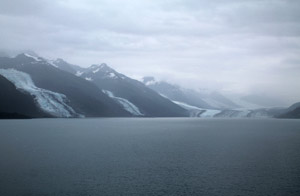 I didn't know what to expect from College Fjord and was prepared to be disappointed after the intense experience the previous day in Glacier Bay. However, the sheer number of glaciers reaching the tidewater was amazing and blew me away. Again, I wished the weather had cooperated and provided a sunny day and an azure blue sky as a backdrop, but it was not to be. Instead tendrils of fog and cloud hovered around the peaks, muting the sky and focusing the eye and mind onto the immensity of the mountains and the size of the glaciers. Our naturalist guide provided a steady patter on the area, including information on the exploration and naming of the many glaciers.
All in all, it was another lovely day in our Alaskan adventure.