We left Skagway about 8:30 in the evening and sailed down the Lynn Canal and into Icy Strait in the dark on our way to our next stop, Glacier Bay.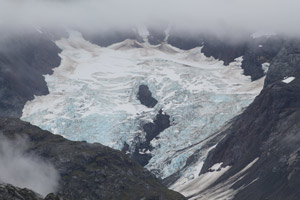 These days, Glacier Bay isn't a bay, but another fjord jutting up into the Panhandle interior. But when the area was named by Captain George Vancouver in 1794, glacial ice reached down to a scant 5 miles from the strait. The glacier had been advancing since 1750 and what Vancouver saw was a wall of ice backing up a broad bay. Then, the name Glacier Bay made sense. Two hundred plus years of glacial melt and the bay is the long channel that we see today.
The Glacier Bay area is both a National Park and a UNESCO World Heritage site. We entered the park early in the morning, before I was up, and loaded on National Park Guides who would be on the boat for the duration of our visit to Glacier Bay. Through the day they would provide information over the PA system, and work an info desk on the ship to answer questions. Only two cruise ships are allowed to sail up the fjord each day, so it is a privilege to be on one of those ships for our visit.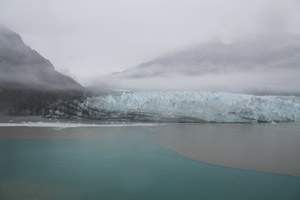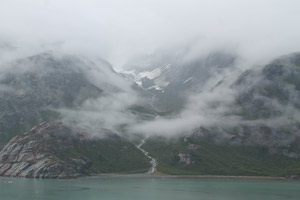 The retreating glaciers have exposed a deep fjord, rimmed by rugged mountain peaks. Glaciers grind down the mountains, bringing bits of the land along with them. Over time the rock and earth builds up into strata of black debris. As the terminus of the glacier melts into the ocean, the debris emerges as silt, creating a dark stain in the green of the unaffected water. Eventually, as the glacier recedes the silt can become a beach at the water's edge and vegetation begins to reclaim the area.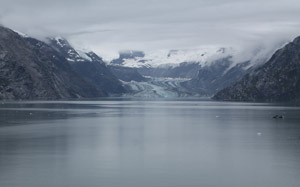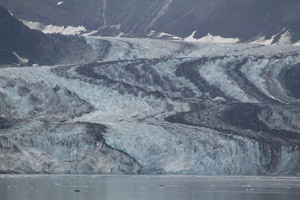 Our ship cruised slowly up the fjord to the head where the Margerie Glacier reaches tidewater, paused there, then turned and headed back the way we'd come. As we sailed south, we turned into the Johns Hopkins Inlet. Though we didn't sail deep into this branch of the fjord, we went far enough to view the glacier at the head. The Johns Hopkins Glacier is advancing, unlike the rest of the glaciers in the park, which recede every year. It is a dirty, sinuous river of ice. It is magnificent.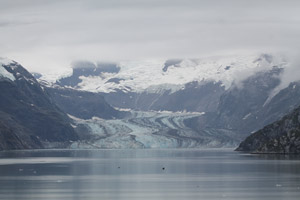 We eased out of Glacier Bay mid afternoon and turned west. Our next stop was College Fjord, far up the coast off Prince William Sound.