The good weather we'd had for the first four days left us in Glacier Bay. That was a disappointment. For me Glacier Bay was the highlight of the cruise.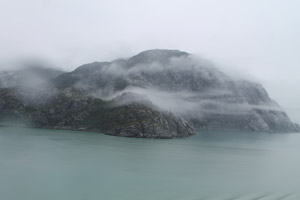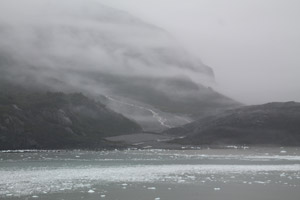 The day dawned foggy and raining. We'd booked a place in The Sanctuary, a secluded area at the back of the boat on deck 15 (the top most deck). The view was panoramic and the booking included food and drink throughout the day while we were in Glacier Bay. But it was completely open and it was raining. I expected to be wet, frustrated and disappointed.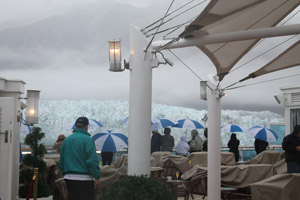 Instead I had a great time. We arrived about 9:30 in the morning, having had breakfast and watching the rain pour down. The captain had claimed that we would reach the Margerie Glacier about 9:45, so we wanted to be at the Sanctuary before then. We were greeted with a mimosa, headbands and a golf umbrella and taken to our loungers. They were out in the open of course, but they were covered by rainproof tarps. Some people were settled in, cuddled under the tarps, but most were hanging out by the rail, getting wet and taking pictures, because the fog had lifted and turned into mere tendrils wreathed around the towering mountains. Then there we were, the Margerie glacier there in front of us, immense, jagged, beautiful. And the rain and the weather didn't matter.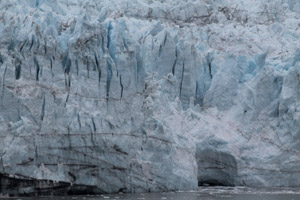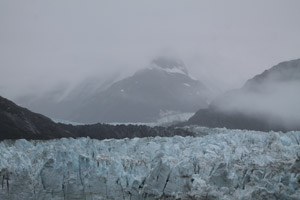 We moved slowly around the glacier for about an hour. Being at the back of the boat, Margerie was always in view. The rain never let up, so most of us got very wet. And we laughed about it. The ever present staff brought us coffee, a three course lunch, afternoon tea and in between more mimosas and Irish coffee. People chatted and enjoyed as we moved from Margerie to the Lampaugh Glacier, which is huge, but dirty with brown with the sediments picked up over hundreds of years. Then on to John Hopkins Inlet and Jaw Point, so called because people's jaws drop when they see the view.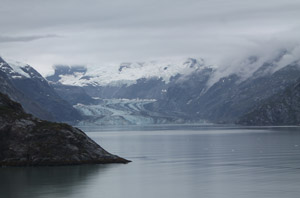 We stayed at the Sanctuary until around 4 pm. For most of the time we were there it rained and for most of the time I was out in the open, getting rained on because trying to take pictures with an umbrella in hand doesn't work. I was soaked. I was cold. But I'd had an absolutely wonderful time.
The weather in the Alaska Panhandle can be unpredictable, but the beauty is there, whether the sky is the brilliant blue of a summer dream or misty, moody gray.