During our visit to the Mendenhall Glacier we walked up to Nugget Falls.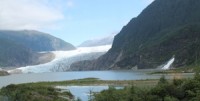 Though the falls can be seen beside the glacier, they don't flow from it. Instead, they come from the parent glacier high in the mountains and the mountain creeks and streams in the area. There is a direct paved path from the visitor's centre to the falls. It swings around the lake at the base of the glacier, and cuts through a thick growth of young trees. There are occasional views of the glacier, but mostly it is obscured by the trees.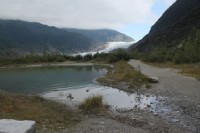 Early on, there is a crossroads with sign that indicates there is access to a beach on the lake. The sign warns that the path is not maintained. We decided to take the beach path, thinking we'd go down to the beach, then have to come back to the main path to reach the falls. We discovered that the beach continued nearly the full distance to the falls and the unmaintained beach path actually was an alternate route.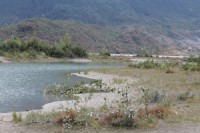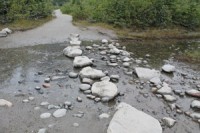 Instead of going back to the main, paved, trail we stayed on the beach path and were rewarded by constant views of both the glacier and the waterfalls growing ever closer as we progressed. The beach route was separated from the main path by a stand new tree growth and the sand grit dropped by the glacier. Three streams crossed to the lake. Flat rocks had been placed to create stepping-stones to cross the water. They weren't hard to negotiate, one woman we passed jogged over them. I was more cautious. I hopped carefully, pausing at each step. The sand that was both hard and soft, but it wasn't difficult to walk on.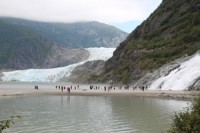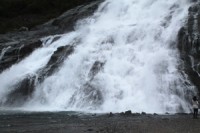 We only saw two or three people while we were on the beach path, most of them walking back toward the visitor center. That was a shame, because the best part of taking the beach route was the incredible views of the glacier and Nugget Falls as you walked toward them. Those people walking back from the falls would see the lake and the reclaimed land, which was pretty, but hardly the point of the visit. If you ever visit the Mendenhall Glacier, I would recommend taking the beach path to the falls and the paved path back.